Music
Music
We at First Metropolitan are especially proud of our Music Ministry. Services include the best of classical music, the newest hymns and old favourites from our church tradition. The Sunday 9 a.m. Communion service features music played on a grand piano and guest musicians playing a wide variety of instruments. The 11 a.m. Sunday service features an Allen 4-manual digital organ. In addition to Sunday and special services, the Music Ministry is instrumental in preparing concerts featuring the talents of our choir members and performances by visiting choirs and instrumental soloists.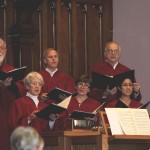 Sanctuary Choir
Music can serve to uplift and inspire us as we explore the very nature of God. Kelly Charlton leads the Sanctuary Choir in a broad range of sacred music each Sunday at the 11 a.m. service. If you are interested in singing in the Sanctuary Choir, please contact Kelly Charlton, Director of Music Ministry.
A bursary program encourages young musicians to join the choir while attending university. (See Music Bursary Program below).
We welcome everyone to join us for practices every Thursday at 7 p.m. in the Social Suite.
Children's Choir
First Met's Children's Choir is led by Bambie Maree, a church musician with wide experience in leading youth, adult and children's choirs in all Christian denominations. As co-music director she worked for six years with the team of the Downtown Churches Steering Committee for Taize. She is the founder of, and instructor for, the Victoria Suzuki Piano School and also teaches music at the the Maria Montessori Academy. She is an alumna of the Victoria Conservatory of Music where she studied piano and subsequently taught as a faculty member for ten years. Bambie is excited to work under Kelly Charlton and with the children at First Met. Come and share in this wonderfully fun and exciting musical journey.
"Where there is great love, much can be accomplished." - Shinichi Suzuki
Pringle Bells
The Pringle Bell ensemble, under the leadership of Kelly Charlton, meets Friday mornings for practice at 10 a.m. They are delighted to have acquired a four-octave set of Schulmerich hand bells. These talented folk occasionally play during the 11 a.m. Sunday service and accompany the choral anthems in the Holy seasons of Thanksgiving, Christmas, Lent and Easter and in other events.
Music Bursary Program
The music bursary program runs from September 15 to April 30. We invite young people involved in music programs to audition for the Director of Music Ministry. The program gives music students an opportunity to engage in the church community and develop their skills in a mutually supportive environment while defraying some of the costs of their music education. The choir benefits by gaining some new young voices that complement and challenge the technical skills of the choir members. Bursarians also enjoy the opportunity to work with guest musicians from across the musical spectrum.
This program depends on the support of the congregation through special bursary donations. If you would like to make a donation to the bursary program, please contact Kelly Charlton, Director of Music Ministry. If you know of a young musician who is coming to Victoria to study, please let them know of this opportunity.
Upcoming Events
---
Carols in the Candlelight
Sunday, December 24, 2017
The Sanctuary
7:30PM
Music for Meditation
Monday, January 1, 2018
The Sanctuary
2:00PM
Concert for a Winter's Day
Saturday, January 20, 2018
The Sanctuary
3:00PM