A wedding ... one of life's foremost celebrations!
Congratulations!
We would like to celebrate with you on this special occasion. We celebrate weddings for couples of all orientations who are in committed relationships. Couples do not need to be members of First Metropolitan United Church, but should desire a spiritual marriage ceremony in which God's blessing is sought upon the commitment of the partners.
We are open to inter-church and inter-faith weddings in which someone from another faith community shares in officiating. Together with the Minister(s), you can plan this special day so that it reflects what you wish to express in your wedding ceremony.

The Ceremony
While there are some portions of the ceremony that are required for legal reasons, there is considerable flexibility to choose music, prayers and readings that reflect your special love and commitment to one another. You may also request the assistance of the music director, who can suggest suitable music for the processional, at the signing of the register and the recessional.
Our gifted Director of Music Ministry, Kelly Charlton, provides a wonderful range of selections for the organ and/or grand piano. We have expert technicians available to provide excellent sound for instrumental groups, vocal ensembles or soloists.
First Metropolitan has a beautiful and historic sanctuary offering a cathedral atmosphere for your wedding in an inner-city setting. The interior seats 700 people and is richly adorned with carved wooden pews on the sides, a central aisle, a hand-carved Chancel and original artifacts, all done in soft tones of burgundy, sage and heather.
Expansive stained glass windows provide wonderful natural lighting. The front is spacious with an open wooden cross in modified Celtic style. When the service is over, our large wooden front doors offer excellent photo opportunities when the wedding party leaves the building.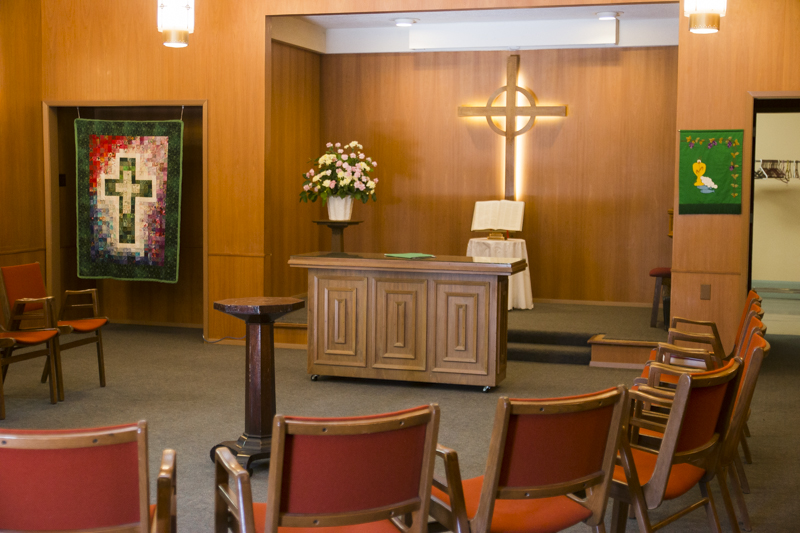 Depending on the size and formality of the wedding, either the Chapel or the Sanctuary may be booked. The Chapel provides seating up to 60.
Following the wedding, receptions may be held in the Doreene McLeod Room or the Fellowship Hall. The Doreene McLeod Room has a small service kitchenette attached, suitable for preparing tea and coffee and serving simple refreshments. The Fellowship Hall has a fully-equipped commercial kitchen and can seat up to 300 people for a meal. It also has a stage and sound system and we can being in a projector and screen.
For more information, see our Facilities page.
Photography and Live Streaming
Photographs may be taken during the processional, the signing of documents and the recessional. Videotaping is permitted from a fixed position in the Sanctuary to be arranged before the ceremony.
Livestreaming of your ceremony is available to share this special occasion with friends and family around the world who are unable to attend. We have experienced technicians on hand to capture your day as you'd like it. You may also purchase video recordings of the ceremony to share with loved ones. More information on Live streaming can be found on our Bookings page.
Note:
Couples must apply for a provincial marriage licence and bring this to the church office at least one week before the wedding.
Interested in holding a wedding at First Metropolitan United Church? Please call the church office at (250) 388-5188, ext 221. for more information or to arrange an appointment. To allow time for the required pre-marriage counselling and to ensure the availability of the church, please contact the office at least six months in advance of the desired date of the wedding.
Church policies allow wine, beer and cider to be served provided that you have obtained a special occasions permit, purchased liability insurance and meet the requirements of the Liquor Licensing Branch.
Join is for worship at 11 a.m. on any Sunday to view the Sanctuary or at 9 a.m. to view the Chapel in daylight through our stained glass windows. If Sunday is not convenient, call the office to make an appointment to view the church during weekdays.
FM hearing assistance is provided for those who would benefit from it. For further information, see our Accessibility page.